I'd like to invite you to attend my yearly New Vintage Tasting with the German Wine Society. We've selected some of the best wines of the vintage and for those of you that haven't attended; this is always a fun event. We keep it light and have lots of great back and forth banter. The wines are the stars of the show, and if you're not too familiar with German wine, this will be a great learning opportunity.  If you haven't already heard, 2019 is an exceptional vintage for the great Rieslings of Germany (potentially a 100 point vintage!) You do not want to miss this! -Phil Bernstein, MacArthur Beverages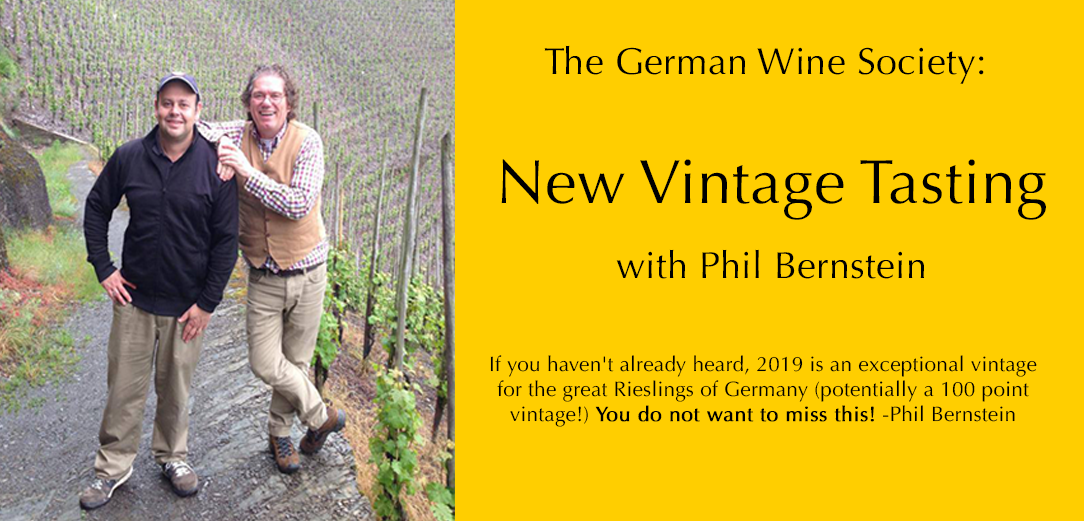 Dear German Wine Society Members and Guests,
Every year we host a tasting to try German wines from the new vintage, with a focus on Riesling. Our host is Phil Bernstein, General Manager of MacArthur Beverages, one of the leading retailers of German Riesling in the country. Every year, Phil brings fabulous wines for us to try and this year will definitely be no exception.
The new vintage is 2019 which has been described as the the best vintage in Germany in 40 years, exceptional, potentially a 100 point vintage.

DATE:  Friday, October 15th, 2021.  Doors open at 6:30 pm; tasting begins at 7:00 pm.
VENUE: The Colonnades, 2801 New Mexico Ave, NW, Washington, DC. There is parking on New Mexico Ave and valet parking for a small fee.
WINES:
Flight 1: A Pair from Clemens Busch

2019 Clemens Busch Riesling Trocken

2019 Clemens Busch Riesling Vom Roten Schiefer
Flight 2:  A Shootout of Hotshots

2019 Lauer Riesling Fass 9 Kern

2019 AJ Adam Dhron Hofberg Kabinett
Flight 3:  Opening the Kabinett

2019 Dr. Wagner Ockfener Bockstein Kabinett

2019 Karl Erbes Ürziger Würzgarten Kabinett
Flight 4: Delicious Vollenweider Spätlese

2019 Vollenweider Krover Steffensberg Spätlese

2019 Vollenweider Wolfer Goldgrube Spätlese
Flight 5: A Spätlese-Auslese Finale

2019 Willi Schaefer Graacher Domprobst Spätlese #5

2019 JJ Prüm Wehlener Sonnenuhr Auslese
COST: $56 for members, $66 for non-members.

If you have any questions, please email the organizer, Dave Wendler:
davewendler@yahoo.com. 
To register and pay by PayPal, go to our chapter website:
germanwinesocietydc.org. 

To register and pay by check, detach and complete the form below and mail it, with your check made out to the 'German Wine Society', to the Chapter President and Secretary, Carl Willner: 1014 Reserve Champion Drive, Rockville, MD  20850

GERMAN WINE SOCIETY NEW VINTAGE TASTING – October 15, 2021
Member(s) Name
_____________________________________________________________
Non-Member(s) Name
_____________________________________________________________
Email
_____________________________________________________________
Telephone
_____________________________________________________________
---