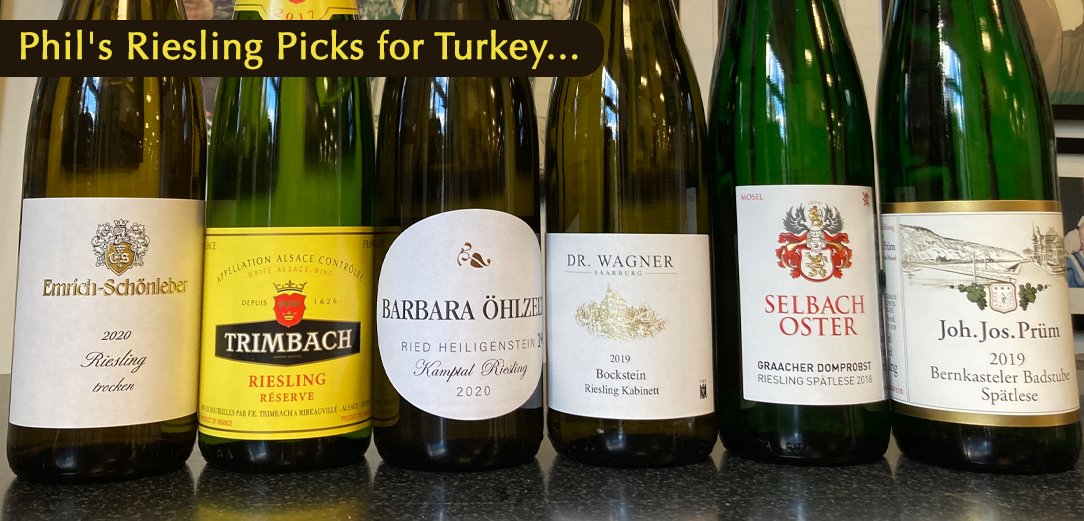 As I say every year, I think Riesling (fruity or dry- whichever you prefer) is the best thing to drink with your Thanksgiving meal. I've selected a few of my current favorites to help make your meal extra special!
Phil Bernstein - Riesling guy, etc. MacArthur Beverages
Dry:
2020 Emrich-Schonleber Riesling Trocken (Germany)
If you follow the great Rieslings of the Nahe region of Germany you are familiar with Donnhoff and Schefer Frohlich. Schonleber is a bit less known and is the third member of the "Nahe masters"! This is his Estate bottling and it's done in a wonderful, not too heavy style with deep aromatics. A true bargain
Sale $24.99

| SKU

87624
---
2017 Trimbach Riesling Reserve (Alsace)
I'm sure Trimbach needs no introduction. This bottling is my favorite for price/quality ratio. Ian D'Agata of Vinous sums it up nicely in his 92 pt review: "This is an outstanding Alsace Riesling that is the equivalent of many Riesling Grand Cru wines made by other producers."
Sale $28.99

| SKU

84605
---
2020 Barbara Ohlzelt - Riesling Heiligenstein (Austria)
We recently received a very small allocation of single vineyard wines from this cult Austrian grower. Barbara Ohlzelt is turning Austrian wine upside down and making highly elegant Rieslings from some of the best vineyards in the Kamptal. If you are an Austrian wine geek, I'm sure you recognize Heilgenstein -and Frau Ohlzelt's version is absolutely stunning!
Sale $54.99

| SKU

88508
---
Fruity:
2019 Dr. Wagner Ockfener Bockstein Kabinett (Germany)
I recently presented a lineup of 2019 Rieslings (great vintage by the way) to the local chapter of the German Wine Society. This wine was a huge hit and it's a bargain to boot. Old school Saar wine from one of Germany's greatest vineyard sites. Also, a true Kabinett-so just a bit fruity but not too rich
Sale $22.99

| SKU

84674
---
2018 Selbach Oster Spatlese Graacher Domprobst (Germany)
It wouldn't be a thanksgiving celebration without a Riesling from Selbach Oster. Long time staff and customer favorites this medium weight Spatlese comes from Selbach's tiny parcel in Graacher Domprobst. This wine is not always brought to the USA and we made a special request with Johannes Selbach to get it here. Just plain delish!
Sale $34.99

| SKU

82051
---
2019 JJ Prum Bernkasteler Badstube Spatlese (Germany)
Another grower who doesn't need an introduction. Prum's entire 2019 collection is phenomenal. Truly "wow" wines. Grab them while you can….
Sale $49.99

| SKU

87292
---